Ordering Options for TaskMerlin
Online Order

Purchase online and receive your license key immediately. You can pay securely using credit card, debit card, bank account, PayPal or Google Wallet.
To pay with a debit or credit card, click on Don't have a PayPal account? when you reach the PayPal payment page (as illustrated below). You may then enter your debit or credit card details in the subsequent page to complete your purchase.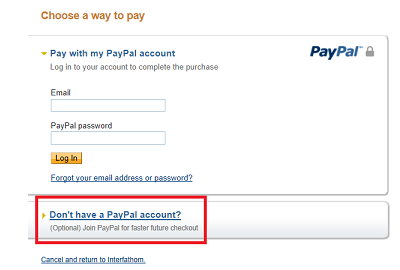 Screenshot from the PayPal payment page
---
Purchase Order

E-mail your purchase order as an attachment to admin@taskmerlin.com.
Purchase orders are subject to credit approval and, if credit is approved, have net 30 day terms. Please include billing and contact information with your purchase order.
The minimum purchase order amount is $200 USD. Purchase orders are only accepted within the United States. All international orders must be prepaid.
---
Check or Money Order
Complete the order form and include a check or money order in US dollars drawn on a US bank.
Mail your order and payment to:
Interfathom, LLC
PO Box 803338 #74384
Chicago, IL 60680-3338
USA
---
Interfathom, LLC is a registered business in the State of Wyoming, USA.
Federal Identification Number: 20-2598987